Pregnant women are among the most vulnerable groups affected by the near-total collapse of the healthcare system in the Gaza Strip due to the ongoing Israel-Hamas war.
Gaza is currently home to 50,000 pregnant women while 5,500 women are due to give birth in the coming month, totaling more than 160 births per day, according to the UNFPA, the United Nations sexual and reproductive health agency.
People living in the strip have lost access to basic necessities like clean water, food, medicine, and proper healthcare in the war-torn enclave.
Amid the ongoing attacks, pregnancy, a joyous life event for many, has been overshadowed by the devastation that has gripped the strip since Israel and Hamas went to war on October 7.
Speaking to Al Arabiya English, Hashim Mhanna, International Committee for the Red Cross (ICRC) spokesperson in Gaza, said thousands of women, including his wife, in Gaza are waiting to welcome their children amid the dire circumstances.
"Normally, we would have celebrated each bit of this remarkable milestone in our lifetime," Mhanna told Al Arabiya English. "I don't think any baby should be born in such circumstances."
Over one-third of hospitals in Gaza – 12 of 35 – and nearly two-thirds of primary health care clinics – 46 of 72 – have shut down due to damage from attacks or lack of fuel, according to the UNFPA.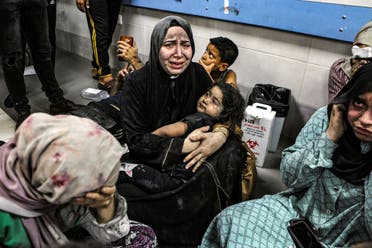 Many of the hospitals still functioning have turned maternity wards into either emergency rooms or operating rooms. Doctors are having to make the difficult choice of turning away patients and referring them to other hospitals, which are unsafe to get to at times.
"Pregnant women at this stage are considered vulnerable. They require medical care," Mhanna said, adding mothers-to-be need "a peaceful state of mind" to prepare for giving birth.
"The sounds of explosions, spending all night in the darkness, not being able to call the ambulance whenever you need, given the communication and Internet issues," the spokesperson said, describing the situation pregnant women are facing.
In addition to the psychological effect, fuel shortages and transportation issues have left many pregnant women without safe access to the medical care they desperately need.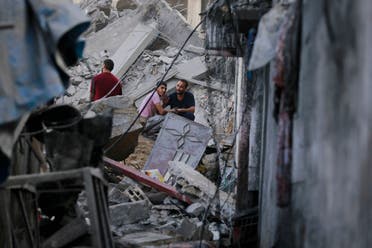 One of those pregnant women lacking the necessary medical care is 24-year-old Reham Rashed.
"I am two months pregnant, and I had a hemorrhage before. There is a treatment that I should take, but I am not able to take it," Rashed said in an audio recording shared with the media by the UNFPA.
The mother-to-be is sheltering with her family at the al-Shifa hospital, as are thousands of other Gazans.
She also said she's unable to take folic acid, a supplement required for pregnant women that helps prevent major birth defects of the baby's brain and spine, according to the CDC.
While women are faced with the lack of supplements and vitamins required during pregnancy, calling an ambulance is also not a choice due to the on-and-off communication blackouts and damaged roads.
The ICRC spokesperson described having to save the fuel reserve in his car in case he needs to drive his wife to a hospital at any minute or go to pharmacies to secure medications when she goes to deliver.
Pregnant under the rubble
The strikes have killed many pregnant women and their fetuses, but 35-year-old Islam Hussein is one of the survivors.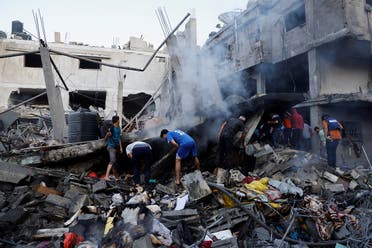 She was at her home with her mother, son, and daughter when an Israeli strike hit the building next to them.
"They bombed the house next to us. Then we didn't know what happened. I felt rubble all over me and I couldn't move. I started screaming, shouting… until the rescuers found me. They finally heard and came and took me out," she described in a UNFPA audio recording.
While her son was killed in the strike, Hussein survived with her daughter and newborn. Doctors rushed her into an emergency c-section 10 days before her due date as the baby had a weak pulse.
Shortage of medical supplies, anesthesia
Reports of childbirth procedures, including c-sections, being performed without anesthesia have emerged, shedding light on the drastic shortage of medical supplies in Gaza. The spokesperson shared stories of mothers who had to postpone their scheduled deliveries due to the unavailability of operating rooms and the required medical supplies.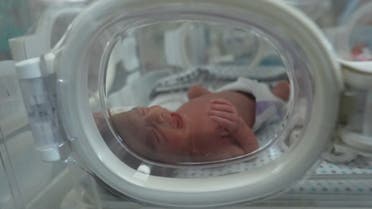 "We received reports about this. We've heard stories. I know some of the mothers who had to postpone their delivery, that is, by c-section, because either there's no availability of the operation room and the designated hospital that receives such cases or because of the lack of required medical supplies like anesthesia, etc. So, yeah, it is happening in Gaza," he said.
He also confirmed reports of some amputations being conducted without essential drugs like anesthesia or painkillers, adding this was a "very tough decision for the medical teams to make."
'Years to recover'
Speaking on Gaza's healthcare system's road to full recovery, Mhanna said, "It will need years to recover fully."
He also said the urgent need for a humanitarian pause, sustainable humanitarian aid, and the protection of hospitals and medical teams is required for the healthcare system, which Mhanna said "is on its knees," to continue providing care for those in need.
He also said pregnant women are not the only ones suffering, but so are persons with disabilities, kidney dialysis patients, and cancer patients.
"These are all now within the circle of risk because their lives, the quality of their lives, depends on maintaining the health care they need on a timely basis," Mhanna said.
Meanwhile, the only cancer treatment hospital in the Gaza Strip went out of service after it ran out of fuel, health officials said on Wednesday.
"I don't think that the healthcare system would be able to sustain providing healthcare in the absence of the medical supplies, equipment, fuel supplies, and the medical healthcare system is on its knees for weeks now," he said.